NKO is a project that brings together two important gastronomic cultures, the Basque, which is Eneko's original, and the Japanese, a cuisine that Eneko Atxa has loved for more than 15 years when he first traveled to Japan and discovered the gastronomic cultural wealth of the country.
Both in Japan and the Basque Country, the table is more than an object, it is a meeting place, it is something almost sacred where the best delicacies come together to unite people, to share around the table, to enjoy, to talk, to get to the path of happiness.
NKO, where Basque and Japanese cuisine embrace.
Eneko Atxa Azurmendi (1977) is a 5 Michelin star chef born in the Basque Country, Spain. He is the chef and owner of the Azurmendi *** restaurant.
An extension to the Basque & Japanese NKO, the menu is a showcase of Eneko's creativity with imaginative and exciting flavor combinations representing these historic cultures. The chefs are dedicated to matching each piece of artfully crafted fish with an exquisite flavor pairing. Think Nigiri with Basque toppings such as Txistorra, Salmon & Piparra and Bilbaina.
It was also nominated for the "Best Restaurant in Europe", according to OAD (Opinionated About Dining) and for the "Best Restaurant in the World", according to the luxurious magazine Elite Traveler. Chef Eneko Atxa was granted the "National Gastronomy Award 2015" and is part of the European "Young Leaders"."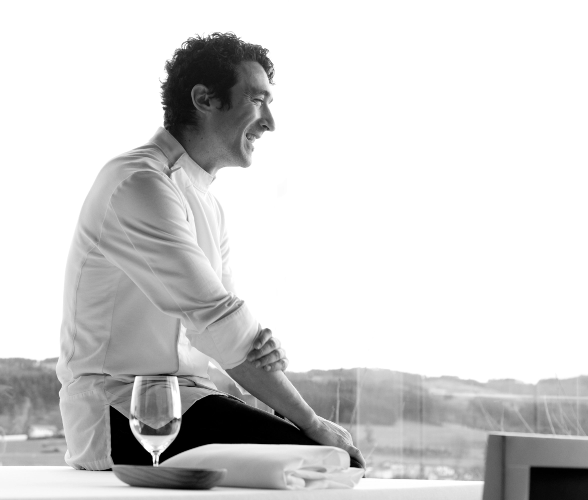 An izakaya (居酒屋)  is a type of informal Japanese bar that serves alcoholic drinks and snacks. Izakaya are casual places for after-work drinking, similar to a pub, a Spanish tapas bar, or an American saloon or tavern. At NKO we adapt this concept to showcase the relaxed laid back tavern vibe, while enjoying high end cuisine and drinks.
Chef Eneko Atxa pays homage to his favorite street eats, serving up both faithful classics and modern twists. Think Ox tail, Chicken teriyaki and Txongitxu! Local craft beer, banging cocktails and good vibes!
Opening : Monday & Tuesday Opens from 15:30-22:30 – Wednesday to Sunday Opening from 19:30-02:30
Orders : To be ordered at the counter for hotel guest and online/counter for outside guest. Click and collect and JUSTEAT